Chocolate Covered Strawberries
We all know that chocolate covered strawberries can be expensive. This DIY recipe will save you money and is easy to make. Check out our step-by-step instructions below to see just how simple it can be!
Ingredient List:
1 pound of strawberries
2 tablespoons of coconut oil
8 ounces of milk chocolate or dark chocolate candy melts
8 ounces of white chocolate or vanilla candy melts
Heatproof/Microwave-safe bowl
Parchment or waxed paper
Paper towels
Baking sheet
Spoons
Instructions:
1 – Line a baking sheet with parchment paper. Rinse strawberries under cold water and pat completely dry with paper towels.
2 – Melt 8 ounces of milk chocolate and 1 tablespoon of coconut oil in a small microwave-safe bowl in 15 to 30-second intervals. Stir in between intervals until completely melted (adding coconut oil makes the chocolate harden faster and thicker). Repeat this step with the white chocolate.
3 – Dip strawberries in chocolate one by one and place them on the prepared baking sheet.
NOTE: You can easily decorate your chocolate covered strawberries by drizzling them with contrasting white or milk chocolate after dipping. Be sure to let the chocolate cool first. To speed up the cooling process, set the baking sheet in the refrigerator for a few minutes. You can also add other toppings such and nuts and colored sprinkles. For this technique, you will have to sprinkle your topping of choice over the strawberries directly after dipping. Place the strawberry in the bowl with the topping and use a spoon to help sprinkle on the topping.
4 – Refrigerate strawberries for about 30 minutes until the chocolate is set. Remove just before serving and let them sit until they are close to room temperature (to enhance the flavor).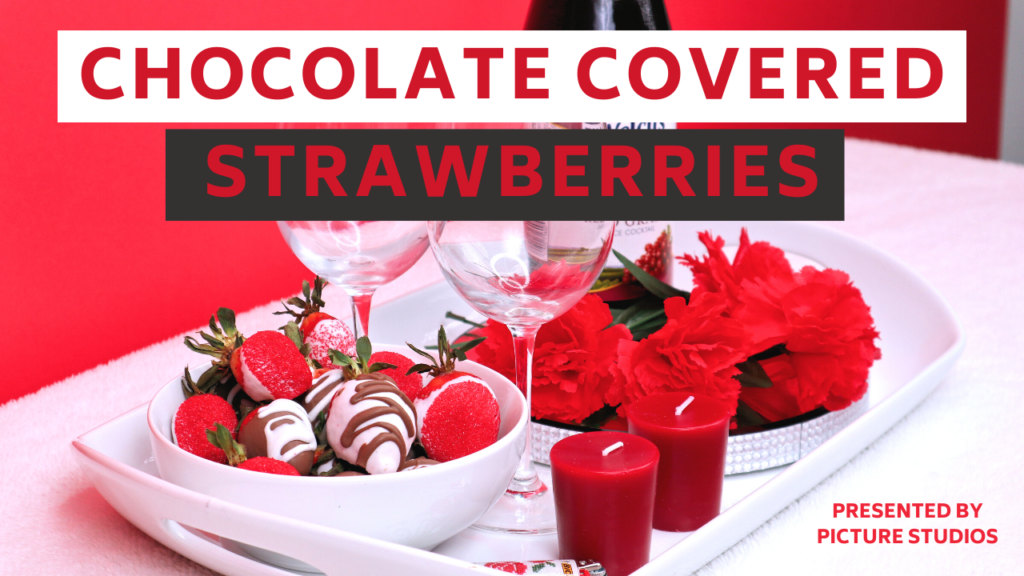 The images and text for this Chocolate Covered Strawberries recipe are the exclusive property of Picture Studios. All content was captured by Picture Studios at its photography studio in Charlotte, NC and/or its photography studio in Greensboro, NC. #RentMyStudio
Follow Us On Social Media
If you don't already, be sure to follow us @RentMyStudio for more updates and news about what's going on at our studio.